Tahini Cranberry Spiced Granola
Tahini Cranberry Spiced Granola nutty golden brown clusters of granola, tossed in cozy fall spices and creamy tahini the most delicious granola you will ever make.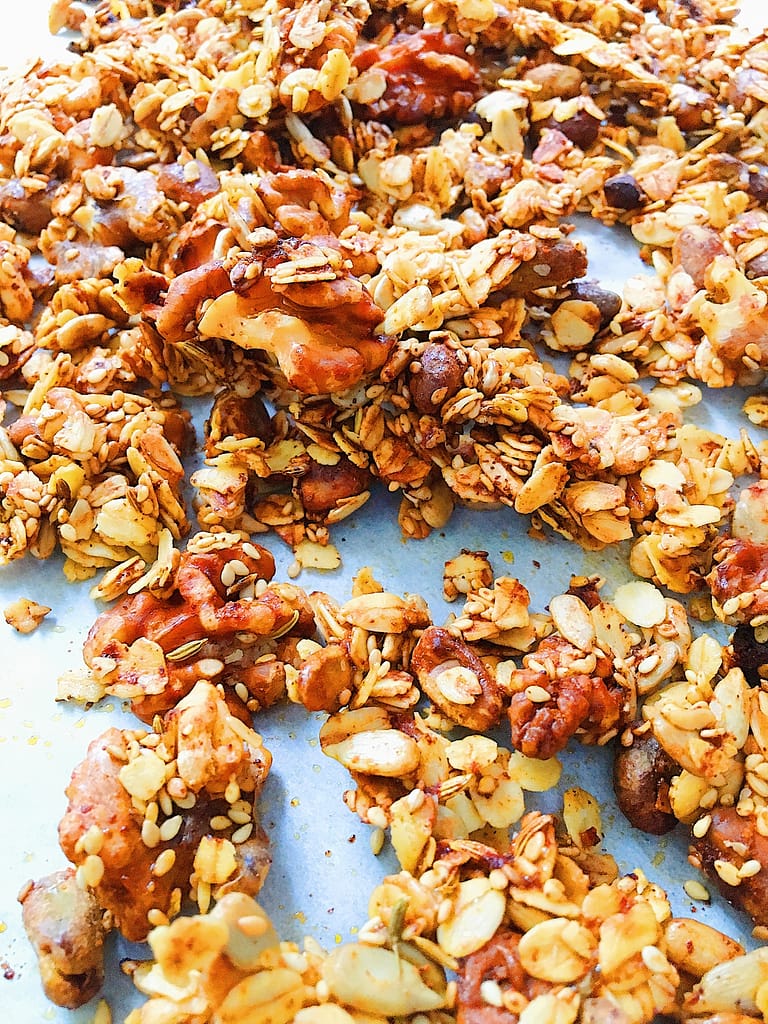 Nutty golden brown clusters of granola, tossed in cozy fall spices and creamy tahini the most delicious granola you will ever make.
Granola is one of my favorite things to make not only is it easy but it's cost effective and so versatile for so many flavors.
What is Tahini?
Tahini sometimes called Tahina is a ground sesame butter or paste traditionally used in Middle eastern Cuisine. Its the main ingredient in hummus and can be used in both sweet and savory dishes. It has a nutty, earthy savory taste. I have to say I am literally obsessed with it hence the granola recipe here!
A few tips when making granola:
Start with a low temperature – this allows the big clusters to form and a slow bake so nothing burns
Allow it to cool completely this is when it gets that extra crispness
Add your dried fruits in last once it is cooled
Store it in the freezer keeps it so fresh – I love to do this for store bought too
This recipe definitely has a middle eastern flavor profile with the spices used. Tummeric, ginger and cinnamon are the main stars of the show. They add so much depth of flavor and pair so well with the tahini , cashews and pistachios its a combination you don't want to miss.
If there is one suggestion I could make for anyone who cooks at home is making sure you have good quality spices in your pantry. Spices not only add flavor but so much nutrients into your melas its incredible from anti-inflammatory properties , to reducing posibilities of cancer and so much more. Spices really make delicious cooking easy and my favorite are from Burrlap and Barrel the spices are sourced all over the world from the farmers themselves and the money goes straight back to the farm which I love. Make sure you change out your spices every year and only keep on hand what you use you don't need those 20 jars spice collections ( gives you more room in your cupboard too)
Another reason I love granola it's a one bowl wonder. Toss everything in the bowl, spread it out on a sheet pan and then bake. Low and slow to get that delicious nutty crisp bite every time.
If you love tahini like I do check out these Tahini Chocolate Caramel Cups ! If you make this recipe I would love to hear from you. Happy cooking 🙂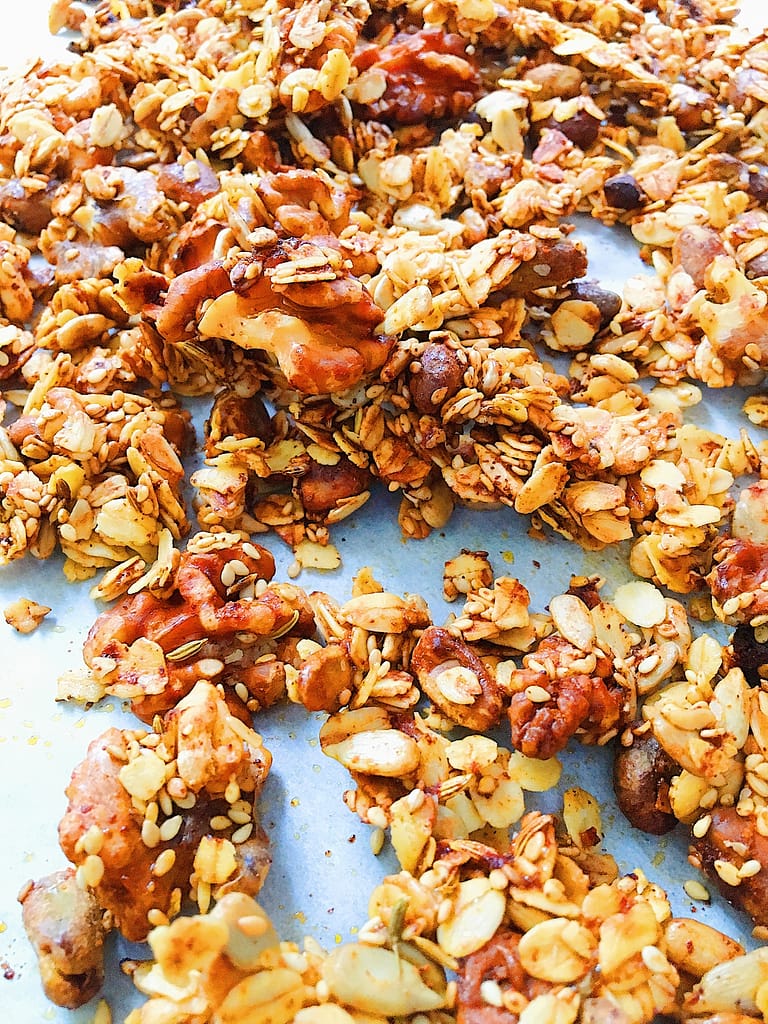 Tahini Cranberry Spiced Granola
Description
Crispy, Crunchy Tahini spiced Granola the perfect healthy treat filled with all the cozy warming spices of fall. 
Tahini Cranberry Spiced Granola
Instructions
In a large bowl mix together oats, pistachios, cashews, ginger, turmeric, cinnamon and salt. In a small bowl whisk together maple syrup, tahini, oil and vinegar. Drizzle over oat mixture, stir to coat. 

Spread the mixture on a baking sheet and let it sit for 20 minutes. Bake at 300'F for 45 minutes, stirring every 10 minutes or until toasted.

Let cool  and add in cranberries and store in a container or my favorite the freezer. 
tahini, granola recipe, healthy breakfast, fall baking
Recipe Card powered by