Crispy Pork belly Tomato Eggplant Pasta
Crispy Pork Belly Tomato Eggplant Pasta - a bowl that will transport you to Italy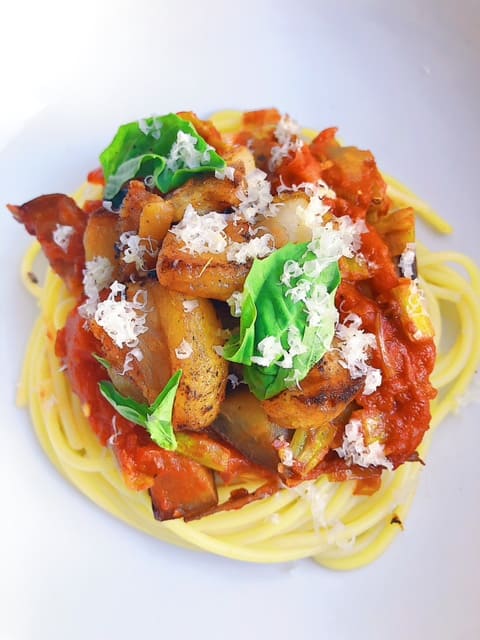 Crispy Pork Belly on top of a rich, flavor packed eggplant tomato sauce with perfectly cooked al dente pasta.
Nothing better than a delicious bowl of pasta and with this recipe we are taking a trip to italy! Well we are though our taste buds. One day a week I like to travel through my plate and this week we are going to the land of Pasta. This is my version of a Sicilian staple pasta alla Norma. Did you know that this pasta is actually named after a lady?
Pasta alla Norma comes from Catania, a city on the eastern coast of Sicily. Catania is the hometown of Vincenzo Bellini, an Italian opera composer who lived in the early 1800s. One of Bellini's most famous operas, Norma, is named after its lead character.
Folklore has it that playwright Nino Martoglio, after his first bite of this pasta dish, exclaimed, "Chista è 'na vera Norma!" ("This is a true Norma!") and the dish continues to live up to its name. My version of this dish I love to make just as the fall season approaches when eggplant is in season and the cozy weather season starts.
Two ingredients that make this dish in my opinion are the parmesan rind and anchovies. These both are what I call flavor bombs. Adding that layer of umami that I feel every dish needs and I promise you won't taste the fish.
Eggplant are like sponges they soak up any sauce they are cooked in and this one is especially delicious. Filled with garlic, onion, tomatoes , fresh herbs and once cooked down finished with a splash of balsamic vinegar to balance out the acid and sweetness. Topped with crispy pork belly and fresh herbs this pasta will become a new family favorite!
Feel free to use your favorite pasta wether it be gluten free, veggie based or regular just cook according to package directions. If you are dairy free as well you can skip the parmesan rind but highly recommend not skipping the anchovies.
If you make this recipe please comment below I love to hear from you!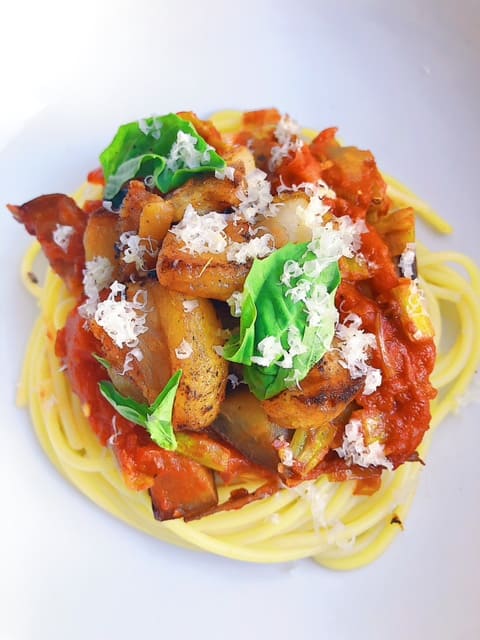 Crispy Pork belly Tomato Eggplant Pasta
Description
Crispy Pork Belly, Juicy tomato and caramelized eggplant all tossed in pasta a wholesome delicious meal with whole family will love. 
Instructions
For the sauce - saute 3 chopped garlic cloves, 1 diced red onion and 2 anchovies in olive oil just until l they break down and add in diced eggplant. Season with salt, pepper and crushed red pepper flakes. Cook for about 5 minutes and add 1 large can of whole tomatoes ( break them up with your hands) stir to combine. Bring up to a boil and reduce the heat to simmer. Add 1 parmesan rind and cook for 25-30 minutes. When ready to eat remove rind, finish with balsamic vinegar and fresh herbs!

Cook pasta in salted water according to package directions. Drain and toss with tomato sauce.

For pork belly- Heat cast iron skillet over medium high heat. Season pork with salt, pepper and fennel. Add to pan and cook 3-4 minutes per side and toss as its cooking to get all the sides crispy. Remove from the pan and place on a plate lined with a paper towel.

To serve - add pasta into bowls top with pork and any extra sauce, fresh herbs and a generous portion of parmesan cheese.
pasta, eggplant, pork belly, one bowl, family dinners, eggplant pasta
Recipe Card powered by