Parmesan Crusted Butternut Squash and Potatoes
Crispy , Crunchy Parmesan Crusted Butternut Squash and Potatoes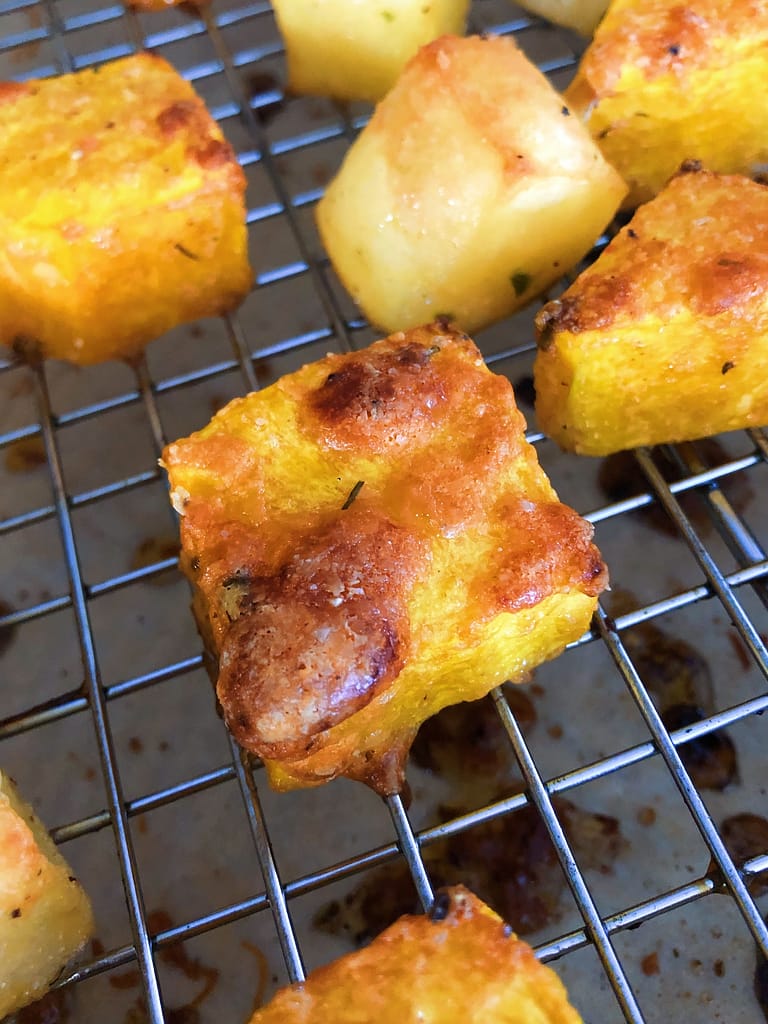 Crispy Crunchy Squash and Potatoes covered in parmesan the ultimate way to eat these delicious vegetables.
This recipe is so easy to make literally 5 ingredients and a crowd pleaser. Perfect for the holidays or any meal throughout the week.
When buying butternut squash you want to make sure the neck is really long this way you get more of the veggie and less seeds. Here is a great video on how to peel and dice the squash. For potatoes look for smooth skin, no dark blemishes or dents. I love to keep the skin on of the potatoes for not only more nutrients but texture.
When roasting vegetables mixing butter with olive oil gives that extra layer of flavor taking bland to delicious. I love this garlic and herb butter not just for this recipe but to have on hand for steaks, toast , frittatas the possibilities are endless.
The key to the crispness is roasting the squash and potatoes on a baking rack this allows air to crisp and cook kind of like and air fryer. Make sure you keep space between each piece so they get crispy and don't steam.
Next time you make roasted vegetables or fries I highly recommend trying roasting them on a rack for that extra crisp.
If you try this recipe and love it I would love to hear from you. Happy cooking XOXO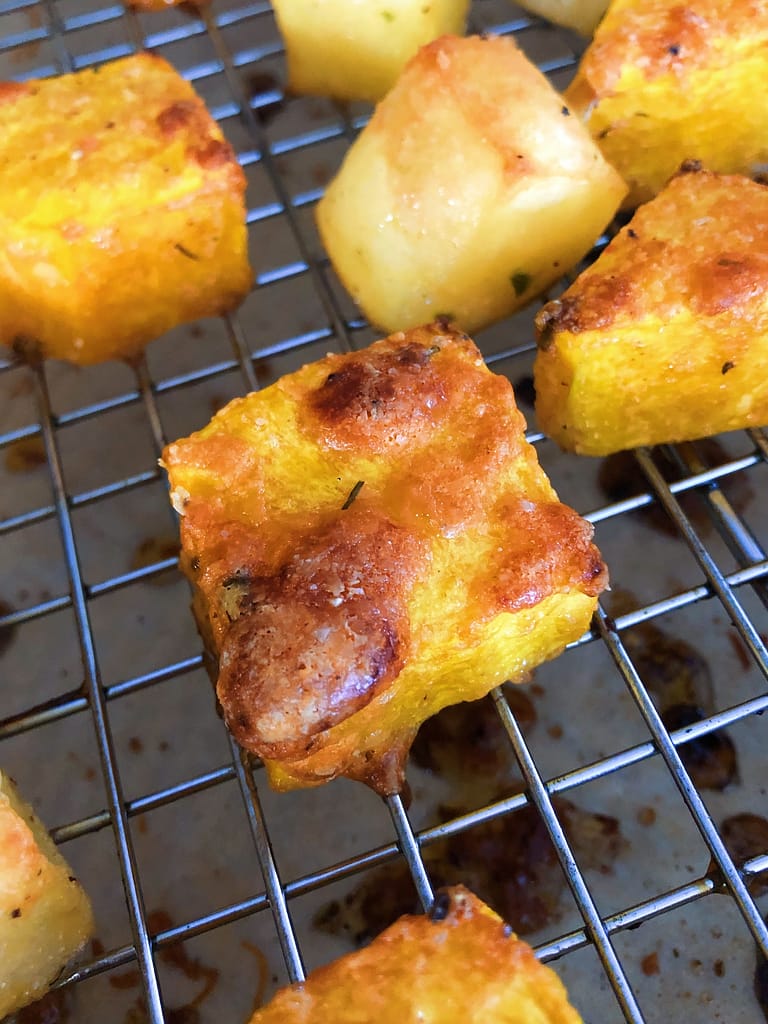 Parmesan Crusted Butternut Squash and Potatoes
Description
Crispy crunchy Roasted Butternut Squash and Potatoes covered in parmesan, basically a delicious vegetable crouton. 
Parmesan Crusted Butternut Squash and Potatoes
Instructions
preheat oven to 400'f. Line a baking sheet with parchment and then place a baking rack on top.

In a bowl mix the butter, olive oil, salt and pepper. Toss with potatoes and squash.

Piece by piece dip each potato and squash in the parmesan and cover all sides. Place on the baking rack and make sure you keep them separated.

Bake in the oven for 35-40 minutes until crispy. 

Serve right away or allow to cool and leftovers will stay fresh in a glass container for 3 days. 
parmesan, roasted potatoes, butternut squash
Recipe Card powered by