Creamy Herb Baked Cauliflower ( Dairy Free)
Creamy Herb Roasted Cauliflower with Crispy Shallots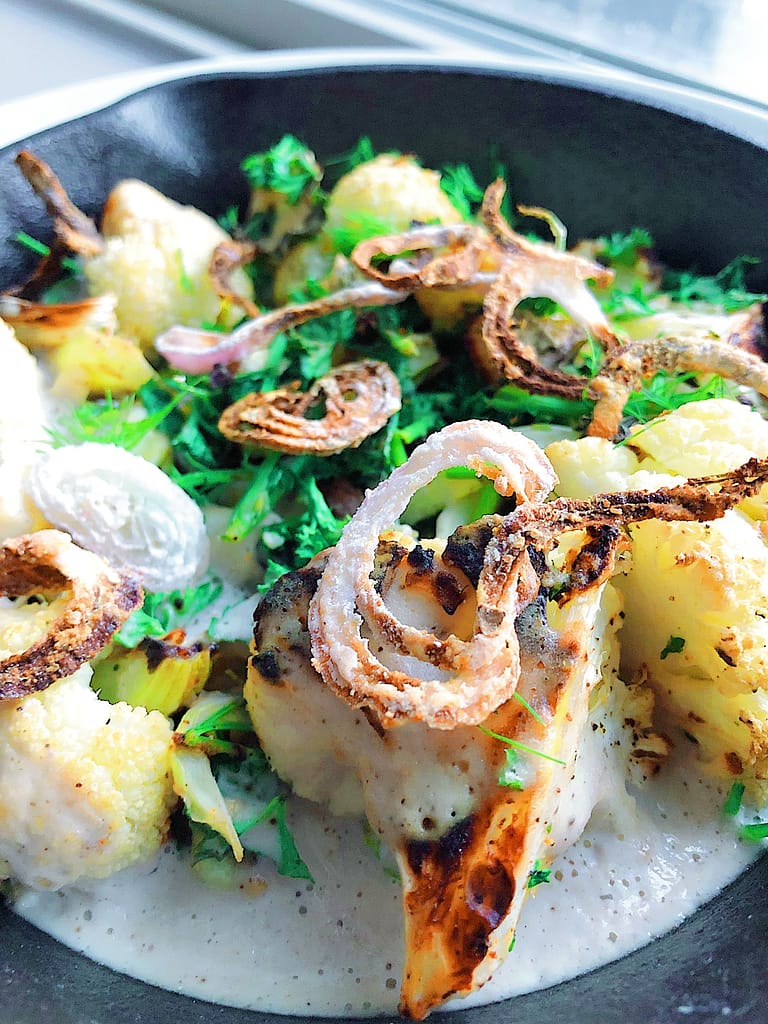 Creamy dreamy roasted cauliflower my healthier take on the traditional vegetable gratin. This dish is fantastic for the holiday table or anytime of year.
This recipe will turn cauliflower into an elegant and delicious side dish to accompany any main course. If you love cauliflower, you will absolutely adore this flavorful and easy recipe. I love cauliflower because it is like a blank slate can take on any flavor and honestly easily be hidden in recipes if you have any picky eaters in the home.
Cauliflower can be bland but when you roast it the veggie turns into this caramelized bit of deliciousness. The sauce is simple and easily made in the blender filled with cashews, garlic, nutritional yeast and some spices. Flavor packed and I love to make extra to keep in the fridge for the week.
If you want to make this ahead for the holidays all you need to do is roast the cauliflower allow it to cool and keep it separate from the sauce. When ready to serve place the cauliflower in a baking dish and top with sauce and bake until warm, then top with crispy shallots.
An option if you prefer dairy just swap the cashew milk for full fat heavy cream and proceed as the recipe instructs.
My favorite cashew milk base is from Addjoi it makes it so easy to make nut milk without all the added ingredients in other nut milks. Use code Danielle for a discount 🙂
I hope you enjoy this recipe and have fun while making it. Happy Cooking XOXO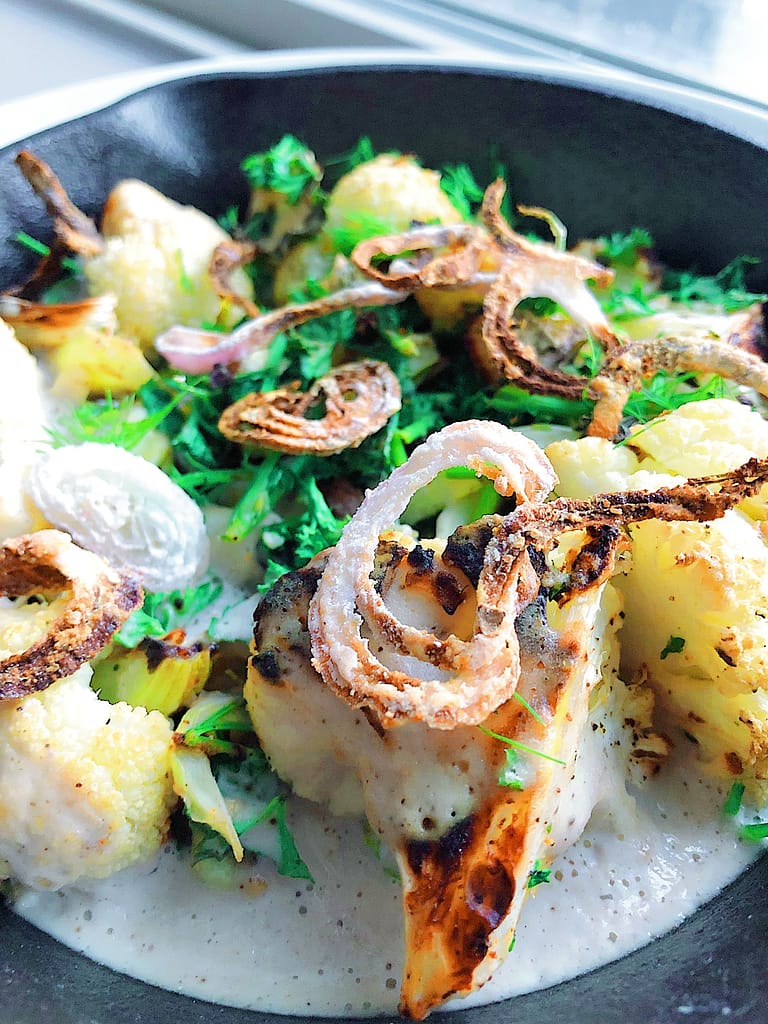 Creamy Herb Baked Cauliflower ( Dairy Free)
Description
Creamy Herb Roasted Cauliflower taking one of my favorite vegetables and roasting it in a dairy free flavor packed sauce. 
Instructions
Preheat oven to 400F.

In a large bowl add cauliflower and toss with avocado oil, salt and pepper. Cook 15-20 minutes until crispy.

For the onions mix all ingredients in a bowl and spread out on a parchment lined baking sheet and bake 10-15 minutes until crispy. Remove from the oven and allow too cool.

 

While the cauliflower is cooking, in a blender, add in the drained cashews, garlic, nutritional yeast, vinegar, mustard, paprika, salt, pepper and cashew milk sauce and blend until smooth. Taste to adjust seasoning if needed and mix in herbs. In a 10 inch cast iron skillet or baking dish pour half the sauce on the bottom and place the cauliflower in the pan and pour the remaining sauce over the top.Bake for 15-20 minutes until the sauce starts to bubble and brown on top. Top with crispy onions and additional herbs and serve!
dairy free, cauliflower recipe, healthy holidays , delicious vegetables
Recipe Card powered by