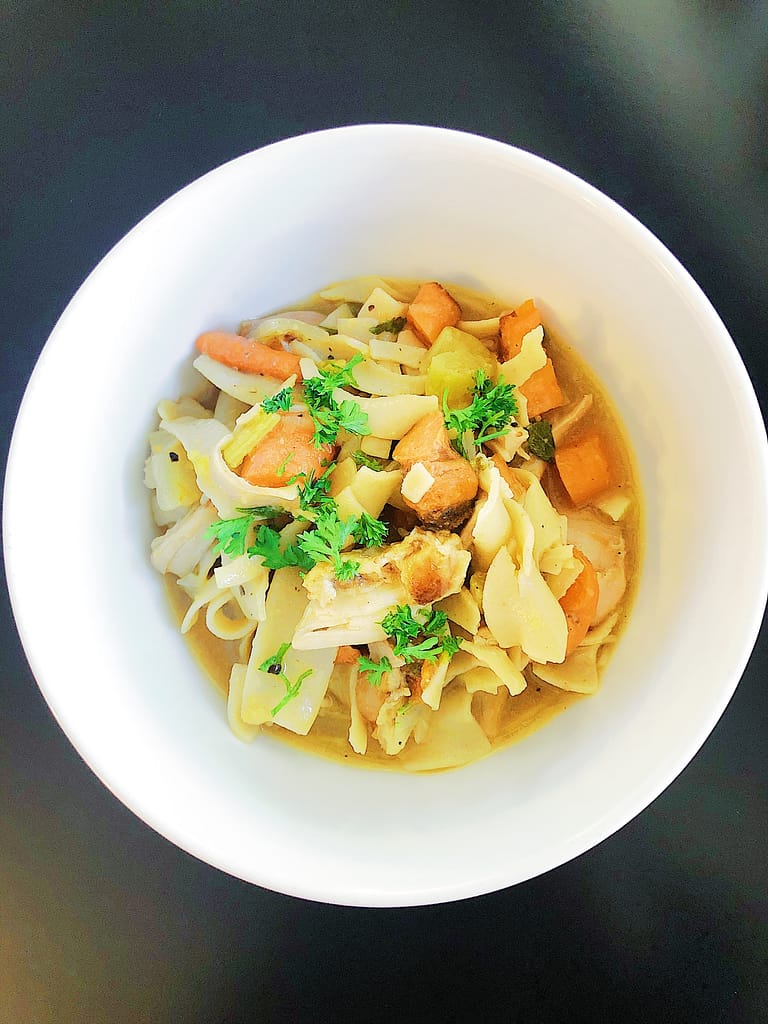 Chicken Noodle Soup Heals the body and Soul! Nothing better than a cozy bowl of homemade soup! I love this recipe its loaded with flavor and you don't need a ton of ingredients! The Key is to sear the chicken in the same pot you make the soup in. The chicken drippings add a ton of flavor. This soup freezes wonderfully too just allow it to cool completely before freezing in glass containers.
Chicken Noodle Soup
2 tablespoons unsalted butter
2 1/2 pounds bone in skin on chicken breasts @pasturebird
kosher salt and pepper
1 onion, diced
2 carrots, peeled and diced
2 stalks celery, diced
3 cloves garlic, minced
8 – 10 cups chicken bone broth homemade
2 bay leaves
1 bunch fresh thyme
Kosher salt freshly ground black pepper, to taste
2 1/2 cups wide egg noodles
2 tablespoons chopped fresh parsley leaves
1 tablespoon freshly squeezed lemon juice, or more, to taste
DIRECTIONS:
Add olive oil to a large Dutch oven over medium heat. Add seasoned chicken skin side down and cook 5-6 minutes until crispy and flip and cook an additional 3-4 minutes. Remove from pan. Add onion, carrots and celery. Cook, stirring occasionally, until tender, about 3-4 minutes. Stir in garlic until fragrant, about 1 minute.
Whisk in chicken bone broth, fresh thyme and bay leaves; season with salt and pepper, to taste. and bring to boil; reduce heat and simmer, cook for about 10 minutes.
Stir in chicken and pasta and cook until tender, about 6-7 minutes.
Remove from heat; stir in parsley, and lemon juice; season with salt and pepper, to taste.
Serve immediately.
Let me know if you try! Follow my on instagram for more recipes and tips! @danielle_christy_kitchen